you're getting married to your honey!
I care deeply about you + your spouse. My hope is that you feel more in love, freedom in your vulnerability, and absolutely radiant on your wedding day.
I believe connection is vital for your wedding photographs, so that you feel more comfortable in front of the camera. Your connection allows me capture your genuine love and let's me be creative; creating artistic imagery of you deeply in love. From silent dances to confetti smooches to tear-filled first looks, the goal for you is to feel zero stress on your wedding day!

If you don't want staged photos (like 'getting ready portraits') customize your timeline for more authenticity! Have 20+ minutes of your family & friends reading letters, praying over you, dancing to your favorite song, etc. This can be real & memorable. Make this real and something you want to remember, not just me asking you guys to smile while putting on mascara.

I hope this guide shows you ways to relax and plan!
Let's be real. Be in love. Laugh & kiss. Enjoy the joy of your wedding.
THE GENERAL TIMELINE
in - between // let's schedule that engagement shoot about a month before sending your Save - The - Dates.
two months before // DJ consultation & bridal portraits
one month before // final payment is due
the day before // relax & have fun! walk into your marriage with joy!
five - seven weeks after // your beautiful wedding photos are here!
four - six months later // I will send your USB drive with all the edited images to you!
When it comes to your wedding, it's important to remember that the whole point in having a celebration + a ceremony is that you & your spouse are sharing your commitments & promises to each other. Don't let other peoples expectations deter you from your dream wedding - stay true to who you are!
You can do whatever you want.
Have your wedding your way.
Light affects all your photographs. Outside vs. a white walled room full of mirrors vs. a dark room with one tiny window - these all produce different moods. If you have Pinterest, look at the wedding photos and see common themes. Are these photos all taken outdoors? Is the photo warm with a golden glow? Is it in a dark bridal suite with awesome shadow play from the window? Light on you makes all the difference. If you like low, moody light, go overboard on those candles & string lights!

Whatever it may be, see what inspires you and then find spaces that are similar. Sadly, I am not a miracle worker - I can't mimic all the warm & gorgeous outdoor lighting that you love from pinterest if your venue is a dark church reception hall with zero windows. You can make your wedding be exactly how you want it to be, so if you want an outdoor reception under string lights for a romantic feel, do it!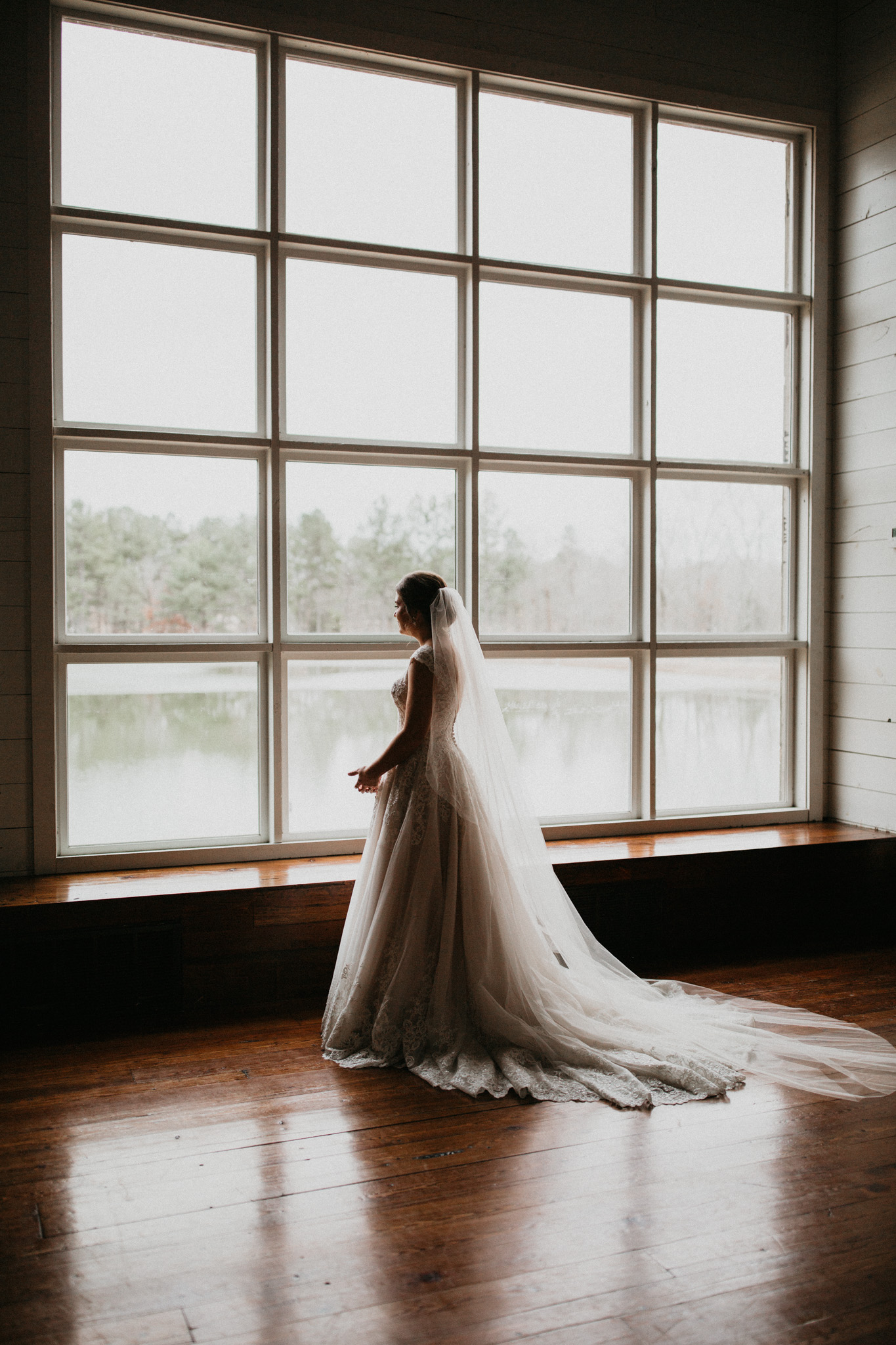 For the best getting ready photos, I suggest a room/airbnb with lots of windows or plenty of window light - you'll look your best with natural light & it feels so timeless! I have lists of great places if your bridal suite is a tiny room with one tiny window, or worse, no window. If there isn't a window in your suite, and if you're open to it, we can do your 'putting on the dress' photos somewhere with natural light, even a hallway will work better.

A cluttered, messy, dark room takes away from the beauty of the day --- so a big tip: have your girls move their bags into their cars before we start taking photos in the room. Who wants photos of curling irons, mixed print bags, and spanks everywhere?

*** Tell your h/mu artist that she will need to be finished 30 minutes before you put your wedding dress on!!! Most of my weddings run late because of h/mu artists taking their time. To combat this, you need to get ready first or before most of your bridesmaid. Whoever is helping you put on your dress needs to have h/mu finished too!
As I like to say, If h/mu is late, I can do wedding portraits without your bridesmaids, but I can't take wedding portraits without my bride.

In general, putting on the dress and finalizing your details takes longer than expected. If there is time, right after your dress is on and you're ready to go, I will take your bridal portraits before your see your soon-to-be husband. It's a few minutes of anticipation before you see each other, and I love the shots I get at that time.
Let loose on your day. Just relax & have some champagne. The best photos come from spontaneous moments of uncontrollable joy + dance parties + cracking up together. There's no reason to worry about posing or anything, just enjoy your wedding day like the best date ever & I'm third wheeling it.
Want to spend more of your wedding day with your spouse? Have a first look, because no one regrets seeing the love-of-their-life more on their wedding day.
You can spend 3+ hours with them before your vows, and be able to relax before & after the ceremony without a rush. With a first look, photos can be as short as 30 minutes after the ceremony compared to the 2 hours we will need if you go traditional, so that you can enjoy more of the wedding you've been planning for months/years!

Your wedding day starts sooner, you get more time, and more photos. You and your love will have many more photos together before and after the ceremony. All of the bridal party photos can be done before the ceremony, as well as most/all of the family photos. After the ceremony, we can take a few of the immediate family, and then more of you two as Mr. & Mrs.!

The first look is a more relaxed way to share an intimate moment before the ceremony, and it doesn't take away from the bride walking down the aisle! That symbolic gesture is an equally powerful moment, regardless of a first look or not. I want you both to be relaxed and stress-free with as many photos as possible, and more time with your love can help! Plus, if you want to have an 'open' first look, have your bridal and parents watch from a distance, so that they can be participants and cheer you on! Then, we can get down to finishing those photos, so you can enjoy more time at your wedding you planned with your loved ones!
To summarize: more time together, better timeline, it calms the nerves. OR, go traditional! There is something very beautiful about seeing the other walking up the aisle!
THE BEST CEREMONY LIGHTING IS OUTDOOR IN THE SHADE, OR EVEN THE SUN!
For indoor ceremonies, it is best if there is a lot of natural light flooding in through windows. Sometimes, natural light mixed with artificial light can create unflattering pops of color in your ceremony location. However, any window light is better than no window light. For ceremonies, I will never use flash out of respect for the venue/church, you + your spouse, and your guests.
Share a private vow ceremony between you & your spouse, separate from the wedding ceremony. You can still recite your vows during your ceremony, but taking the time to do it alone & in private can be a way to have a really intimate and meaningful moment with your honey. Imagine sharing this intimate moment during the sunset of your wedding day! During that time, you can have a song played or have someone pray for you both - make it personal & a part of your own story together!
Your wedding is about the love between the two of you, so don't you want as many photos with each other as you can?

I recommend two portrait time slots for portraits of just you two together: right after your first look for 20 minutes, and at sunset/after ceremony for about 20 minutes.

Why after the First Look? The pressure is off, and you're ecstatic, giddy, in love, and ready to party.

Why before sunset? Because the light is gold. At sunset we'll get great golden light & right after the sun disappears, we'll get some of the best moody light.

The most important thing to ensure we get great photos is trust. If you trust me to create the photos you'll love, I'll be able to do my thing and guide and direct you well. It's all about collaboration & trust!

If you are not doing a first look, we can work on a template to help try to get as many photos of you two as possible after the ceremony, which will include an earlier ceremony start time!
FAMILY & Bridal PARTy portraits
The best time for family and bridal party portraits is before the ceremony. Everyone is ready to go and no one will miss the reception time! For family portraits, it's best to do immediate family right before or after the ceremony. If you want extended photos, that will be after the ceremony briefly so that we have plenty of time for Mr. & Mrs. photos before the reception.

With a First Look, we can finish full bridal party and all your immediate family before the ceremony. After the ceremony, we can just focus on you two! That means, you can celebrate more of the wedding you've spent this time planning! The first look option will require 1 hour of group photos before the ceremony, and the traditional route will require 2 hours of group + Mr. & Mrs. Photos between your ceremony and reception.

I recommend keeping the family list short, and if you're neutral on extended family photos, we could possibly organize that during the reception, rather than take away from precious Mr. & Mrs. Photos! I can help you out with tons of ideas to help make your day as relaxed as possible!
If you're unsure about your setup, just ask me and I'll help! Or, if you would like me to use flash the entire reception regardless of ambient lighting, please also let me know!
Most receptions occur around golden hour, so when the sun finally sets, it sets the tone for a really warm, romantic setting. For your photographs to be the best as they can be, have as much time outside with natural light as possible. Outdoor receptions with string lights, lanterns, candles, and dancing - sounds so very dreamy!
Indoor receptions are important to capture mood. This is why I will try not to use flash for anything other than party/dancefloor time. For a romantic mood, string lights and candles are great. Go all out on the candles & string lights, because they provide beautiful ambiance and great light for photos! Just try to stay away from using dim lighting, which will make focusing trickier for me. If there isn't great lighting, I will use flash to ensure great photos! If you want amazing photos, stage all the 'events' of the reception by a window or even outside with candles for all those romantic vibes!
PS - I am a HUGE fan of farm tables! They photograph SO beautifully & are better for conversations for your guests!
For the best dance photos, face me & my camera when I'm nearby! I want your faces belting your favorite songs while jumping up & down with all your besties! Go crazy & wild! If I grab you to turn & face me, it's because I want photos like this!
Put the DJ booth on the dance floor, or as close to the dance floor as possible!

The bride & groom set the mood for the reception! If you want a party, be prepared to get out there on the dance floor to sing & dance!

Another way to maximize the photos & reception fun is to divide up the dancing portions of the night with cake cutting, the Shoe Game, and the bouquet/garter toss.

Hire a DJ you trust! An inappropriate song, awkward joke or equipment failure can derail the mood of the night <--- let's have fun & enjoy your reception!
Hire a Day - of - Coordinator! That is the best advice I can give any bride! Your wedding day will be so much more relaxing and stress-free, and it is better for all of the vendors who are working at your wedding. You will not regret the investment!

Day - of - Coordinators will do everything from rehearsal dinner, vendor management, decor set-up, cake cutting, dress fanning, bridal party & family portrait organizing, and so much more. They are the glue to every wedding!

If there is no coordinator to bring your wedding day vision to life, that responsibility of organizing everything will fall upon either a parent (who would rather enjoy your wedding too!) or one of the vendors who already has their own job to do, like the photographer or DJ. I would also not recommend asking a relative to coordinate, because there is little/no experience or understanding of the flow of the day, ceremony situations, potential problems & solutions to them, etc.

If you have questions on this, I would love to explain more of the benefits! If you need recommendations for coordinators, I have coordinators that can fit every budget!
1. I don't give away my files in RAW form. If you have no clue what that means, just don't even worry about it! You're solid.

2. Alongside number 1, I won't ever give you back unedited images. Another photographer said it perfectly: 'The best reason I can give you is this - an author would never hand you their book unfinished with chapters and major story plots missing. Neither will I hand you back my work unfinished. It's a masterpiece, so let me finish it.'

3. At your wedding, I will be there for you! I won't leave early. I won't show up late. You can expect me to be your personal paparazzi from start to finish. I'll cheer you on, have tissue paper, and give special moments alone with your honey-for-life.

4. My turnaround time is 4-6 weeks with about 75 -100 images per hour.

5. Yes, you have the rights to print and post the photos. No, you may not edit, add instagram filters, crop, or anything else to distort the images, as they are completely finished when I sent them - that is in the contract.

6. Yes, I would LOVE to travel to be part of your day or any of your sessions. I would do a lot to be there for you on your big day. I'm a big fan of traveling, so I'd be totally down for a session to travel; engagement or an after bridal session- travel to a cool spot and get some artistic and adventurous imagery! If you are down, let's total do this!